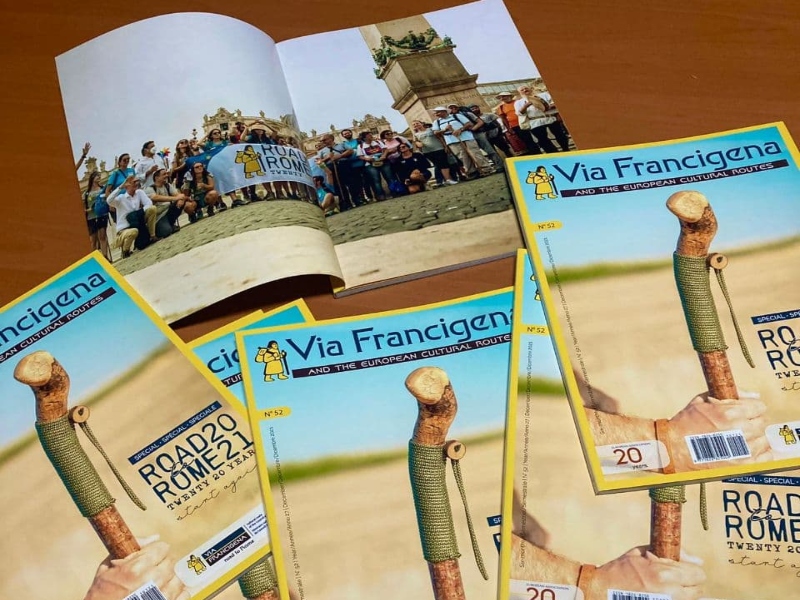 La rivista semestrale "Via Francigena and the European Cultural Routes" è lo strumento editoriale ufficiale dell'Associazione Europea delle Vie Francigene. Pubblicata in 5.000 copie in versione trilingue (inglese-francese-italiano), è corredato da un ricco apparato di immagini che unisce all'approfondimento storico-culturale, l'informazione sull'attività dell'Associazione, calandola nel più ampio contesto degli Itinerari del Consiglio d'Europa.
I momenti di presentazione della rivista avvengono sempre in prestigiosi ambiti istituzionali, quali: Lussemburgo, Reims, Parigi, Roma, Canterbury, Bruxelles, Strasburgo e Santiago de Compostela, favorendo la diffusione della Via Francigena in tutt'Europa e offrendo contemporaneamente una vetrina promozionale ai territori francigeni, sotto l'aspetto culturale, turistico e delle eccellenze enogastronomiche.
Lo Studio Guidotti snc  è una casa editrice che opera prevalentemente nel settore della cultura. Oltre all'editoria, lo Studio Guidotti si occupa di promozione di eventi e manifestazioni.
Lo Studio Guidotti pubblica tre riviste:
Via Francigena and the European Cultural Routes organo ufficiale dell'Associazione Europea delle Vie Francigene, edita dal 2005 in tre lingue: inglese, francese e italiano; una pubblicazione  che mette in rete 209 enti distribuiti tra Inghilterra, Francia, Svizzera e Italia.
Assaggiami Emilia Food Mag dal 2011 uno strumento divulgativo delle eccellenze enogastronomiche emiliane abbinate alla promozione dei territori, Queste due riviste sono sfogliabili anche on line.
Per La Val Baganza è una pubblicazione edita dal 2004 che tratta gli aspetti culturali, storici e turistici dei Comuni che si affacciano sulla Val Baganza: Sala Baganza, Felino, Calestano, Terenzo e Berceto.
Il Comune di Terenzo ha assegnato allo Studio Guidotti il premio "Terenzo Eventi Romei", riconoscendogli il lavoro svolto per la promozione della Via Francigena nel suo territorio.