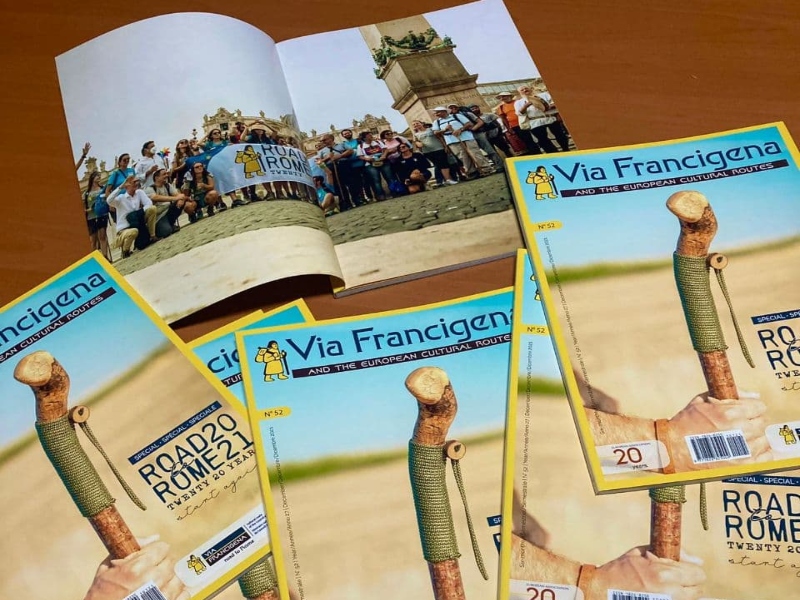 The biannual magazine "Via Francigena and the European Cultural Routes" is the official publishing tool of the European Association of Via Francigena ways. Published in 5,000 copies in three languages version (English-French-Italian), it is accompanied by a rich apparatus of images that combines historical and cultural insights with information on the Association's activities, placing it in the broader context of the Council of Europe's Routes.
The official presentations of the magazine always take place in prestigious institutional settings, such as: Luxembourg, Reims, Paris, Rome, Canterbury, Brussels, Strasbourg, and Santiago de Compostela, promoting the Via Francigena word throughout Europe and simultaneously offering a promotional showcase of the Francigena territories, under the aspect of culture, tourism, and food and wine excellence.
Studio Guidotti snc is a publishing house operating mainly in the field of culture. In addition to publishing, Studio Guidotti is involved in event promotion.
Studio Guidotti publishes three magazines:
Via Francigena and the European Cultural Routes: the official magazine of the European Association of the Via Francigena ways, published since 2005 in three languages: English, French, and Italian. The publication networks 209 entities distributed among England, France, Switzerland and Italy.
Assaggiami Emilia Food Mag: since 2011 a popular tool of the food and wine excellence of the Emilia region combined with the promotion of the territories.
Per La Val Baganza is a magazine published since 2004 that deals with the cultural, historical, and tourist aspects of the municipalities bordering Val Baganza: Sala Baganza, Felino, Calestano, Terenzo, and Berceto.
The Municipality of Terenzo awarded Studio Guidotti the "Terenzo Eventi Romei" prize, recognizing its work in promoting the Via Francigena in its territory.